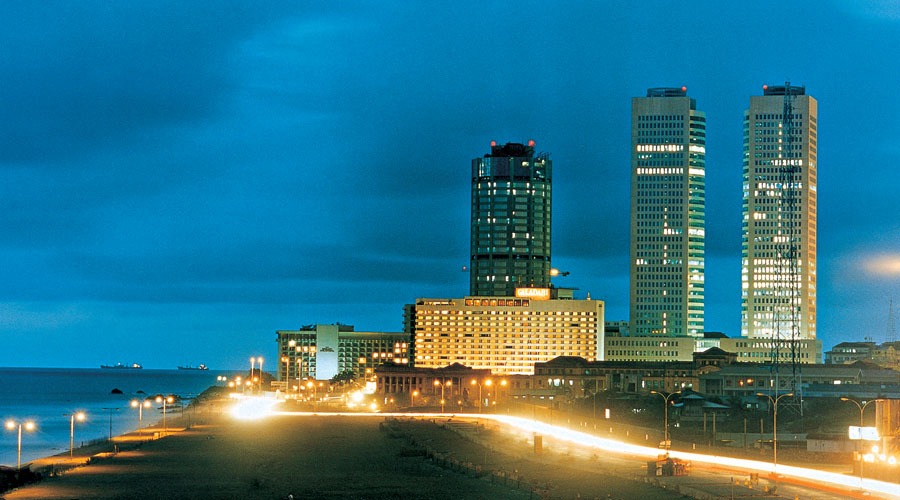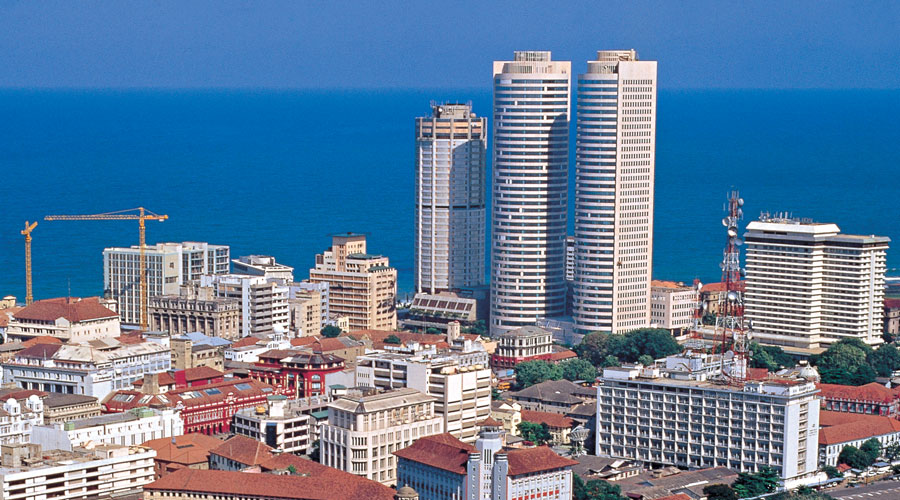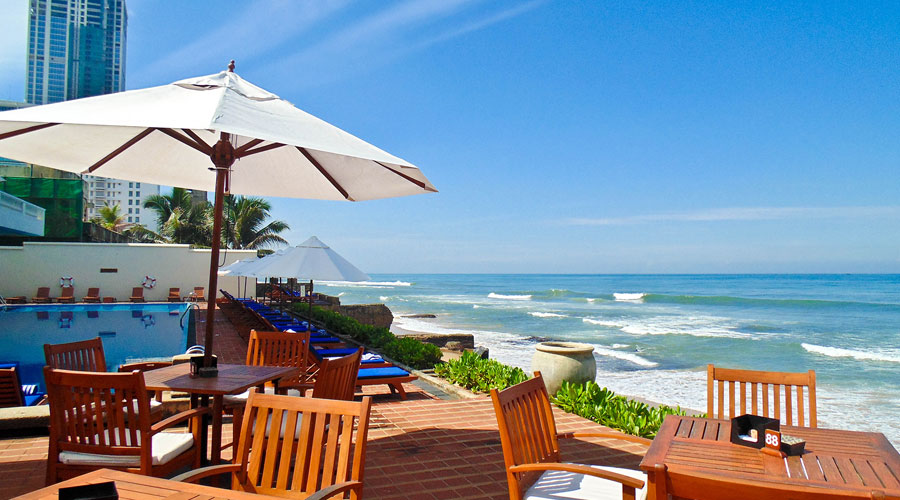 Description
Experience the colorful lights and bright life of Colombo, the capital City of Sri Lanka. Visit historic monuments such as the Old Lighthouse, the Old Parliament, Galle Face Hotel, Galle Face Green, Gangarama Temple, the National Museum and more. Enjoy the malls of Independence Square or the Racecourse. Visit boutique shops and designer stores.
Galle Face Green
Located in the heart of the business capital of the country; Colombo, the Galle Face Green in Sri Lanka is a five-hectare ocean-side urban park, which stretches for a half kilometer along the coast. It is a magnificent place to witness a marvelous sun set over western coast of Sri Lanka. The area was initially put to plan and laid out in 1859 by Governor Sir Henry George Ward, although the original Galle Face Green extended over a much larger area than is seen today. The Galle Face Green in Sri Lanka was initially used for many recreational activities. These include activities such as horse racing and golf. It was also used as an area to play cricket, polo, football tennis and rugby.
National Museum of Sri Lanka
The National Museum of Sri Lanka, also most commonly known as the Sri Lanka National Museum is the largest Museum in Sri Lanka. It is maintained by its own dedicated Department of National Museum in Sri Lanka. It is home to many valuable and historically important objects such as the throne and the crown of the Kandyan Monarchs. The Colombo Museum was established in 1st January 1877. It was founded by the British Governor of Ceylon at the time; Sir William Gregory. The architect of the Public Works department, J.G. Smither was able to prepare plans for the new structure based on Italian architecture style.
Gangarama Buddhist Temple
Within the heart of Colombo is the Gangarama Buddhist Temple. Built during the late 19th century for the Buddhists who lived in the capital city of Colombo; the temple sprawled over a large area of land and included several outer structures. The Seema Malaka is one of these. Originally, it was built with a foundation within the floor of Beira Lake, and was the image of stolidity. However, it was not able to withstand the marshy ground underneath the lake. By 1970 the Seema Malaka had sunk completely under the waters of Beira. And then in 1976, Sir Geoffrey Bawa was hired to do this difficult construction design. He created three floating platforms interlinked by pontoon walkways and anchored to the base of the lake by way of stone pillars. The light design ensured that the construction would not sink. The entire structure is connected to the shore using another pontoon bridge. He created a design that emulated the ancient monasteries of Anuradhapura and added his own signature modern twirl to it. Bawa was one of the most influential Asian architects of the mid to late 20th century and was well known for founding Tropical Modernism. This style is very apparent in the deep blue clay roof tiles of the main temple, the simplistic and yet delicate structure made of a collection of wooden spindles and banisters that lets plenty of air and light in, and the overall design that conforms to nature instead of fighting against it.
Beira Lake
Beira Lake is one of Colombo's most famous landmarks. It lies right in the middle of the capital and is one of the few places of relaxation and beauty within the city limits. As such the area on and around it has many attractions; not to mention the history of the lake itself. Beira Lake started out as a much bigger lake of occupying a area of 410 acres over a century ago. But with the rapid commercialization of the area it has since been reduced to approximately 160 acres.
Old Dutch Hospital
Amongst the busy commercial trade zone of the Colombo Fort region in Sri Lanka are some of the oldest structures of the city. The Old Dutch Hospital with its tropical colonial-era architecture is one of them. The old structure; with its boxy pillars, red clay roof tiles and large central courtyards; was built in the late 17th century by the Dutch. They were influenced by the tropical requirements and the local building style in Ceylon at the time, as is evidenced by the design; which is quite different from European structures of the era. While the building may seem comparatively dull overall; it's important to feel the echoes of its history while visiting. The restaurants and stores within the Old Dutch Hospital tend to be more on the high end and expensive. Some of the places worth visiting there are The Ministry of the Crab, with its mouthwatering crab cuisine; Barefoot Gallery Cafe with its colorful handloom fabric clothing, stuffed toys and etc; Spa Ceylon with its fragrant herbal bath and body therapy items, and the Heladiv Tea Club with its delicious teas, cakes and sandwiches. There are also a number of other good stores that open up suddenly in spare spaces, which are worth having a look at.
Starting Point
AT COLOMBO INTERNATIONAL AIRPORT
Ending Point
AT COLOMBO INTERNATIONAL AIRPORT
Price Includes
Air Fares
Nights Hotel Accomodation
Tour Guide
Entrance Fees
Price Not Includes
Guide Service Fee
Driver Service Fee
Any Private Expenses
Room Service Fees
Important
Terms & Conditions
Payment Policy
---
• In order to confirm the booking, we need advance payment of 50% balance can be settle ones arrive to Sri Lanka
• There will be no additional charges for postage, handling, and booking. We do not provide any hidden charges.
• Peak season payment will be subject to hotel availability. As sometimes we need to pay in full for hotels in order to book rooms. (Peak season – January / April / July / August / December)
Travel Tips
1. Sri Lankan temples, long pants are required to enter, and slippers are required to enter the area. Bring a shawl to cover your shoulders and a long skirt that covers your knees (long shorts for men) to visit a temple.
2. Pack a jacket or a pullover if you are planning to go to the Hill Country. The temperature there goes down 10-15 C (50-60 F). It is especially cold at night.
3. It's better to buy sunscreen and bring it with you, because it's ridiculously expensive in Sri Lanka. We recommend getting a mineral sunscreen that is eco-friendly and safe for coral reefs. Ladies bring enough feminine hygiene products for the trip. Tampons are hard to find and expensive.
4. The currency in Sri Lanka is Sri Lankan Rupee. You'll see a sign "Rs" on price tags, which means "rupees". You can exchange money at the airport, the rates are usually decent and it's safe and easy. You can also exchange money in one of the banks in bigger cities where you travel. ATMs are easy to find too. Always have some change with you. Although nowadays you can pay with credit card in hotels, restaurants, and supermarkets, there are still small shops in rural areas where only cash is accepted.
5. Local sim card will be provided. You can use data to call home via Skype or Watsup. Data is also very handy when you are traveling and simply stay connected with the world. Wifi is available at many hotels, hostels, restaurants, and cafes across the country. It's not always reliable and fast, but you'll find it in most touristy areas.
6. The weather in Sri Lanka is not defined by seasons, but by monsoons instead. The southwest of Sri Lanka is hit by monsoon from April to September, while the northeast – from November to March. This means that any time of the year there are areas in the country where it's not raining, and you can enjoy your vacation. You just need to plan your itinerary accordingly. Having said that, we want to mention that rains in Sri Lanka are quite brief. It rains cats and dogs for 15 minutes, then it stops completely, and you can go on with your day. It's not ideal, but it never stopped me from traveling around the island. Just pack a light rain jacket in your luggage and you are good to go! This eco-friendly rain jacket is super cute, by the way.
7. The temperature stays consistent throughout the year at 26-30 C (78-86 F) but might go up even higher in the hottest months around April-May. The temperature goes down once you reach the Hill country. In Nuwara Eliya and Ella it can be as low as 10-15 C (50-60 F). Humidity is very high all over the island. The average is 60%, but in the southwest it can go up to 80-90%.
8. In touristy towns by the beach, in the southwest of the island, you can wear pretty much whatever you like. There are way too many tourists so short skirts and shorts are fine. But if you are traveling to ancient cities or less touristy areas of Sri Lanka, I would recommend for women to cover up a bit more.
9. Get travel insurance. It's better to be prepared. Although there are municipal hospitals in Sri Lanka, this is not where you want to end up in case of emergency. Private hospitals have better facilities, but they are expensive. Travel insurance will help you avoid those expenses.
10. Sri Lankan meals are arranged for use in hotels. Cleaning and sanitation are more secure. However, due to taste, please have psychological preparations for entry and customs. Please use mineral water for drinking water. Raw water should not be used. In Sri Lanka eat Sri Lankan food. Sounds silly, but seriously, this is what they do best.
11. Sri Lankans eat rice and curry by hand, you should try it too. we must admit, it looks gross when you see it for the first time. So, take it easy, watch people do it first, learn a little, then dive in. The reason you should do it at least once is because the taste is truly different when you eat rice and curry with a spoon vs by hand.
12. There's always at least one public holiday a month on the day of full moon – Poya day. On Poya day and other public holidays many shops and restaurants are closed, especially outside of Colombo. It is also prohibited to sell alcohol.
13. Standard voltage in Sri Lanka is 230 V, standard frequency 50Hz. D, M, and G type of power sockets are used throughout the country (the plug either has three round pins or three rectangular blades).
14. For some sightseeing spots, you need to buy tickets for your camera or camera. Please remember to ask for a receipt.
15. Sri Lanka's attractions, if there are arrangements for service personnel, more will ask customers for tipping habits, please prepare some change for spare.
16. Please bring your usual medicines with you in case you need them.
17. Wild animals, plants or related products are strictly forbidden to export. Some licensed export items can be carried as carry-on baggage but must obtain an export document certificate.
18. Do not buy silver products and wild animals, plants, and peacock feathers in large quantities.
19. If you are planning to travel around the island a lot, get a backpack. Even if your plan is to stay in a hotel by the beach and take short daytrips from there, it's comfortable to have a small backpack to take all you need for the day. Mosquito spray will be essential item in your backpack. 20. Sri Lankans smile a lot. They are also some of the most kindhearted and welcoming people in the world. Please respect the local folk customs. When people smile at you, smile back. And, as Ellen says, be kind to one another!