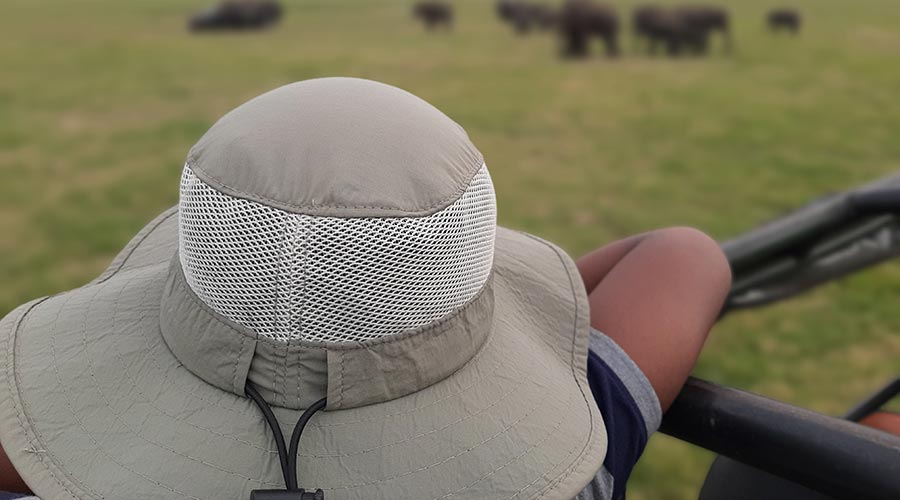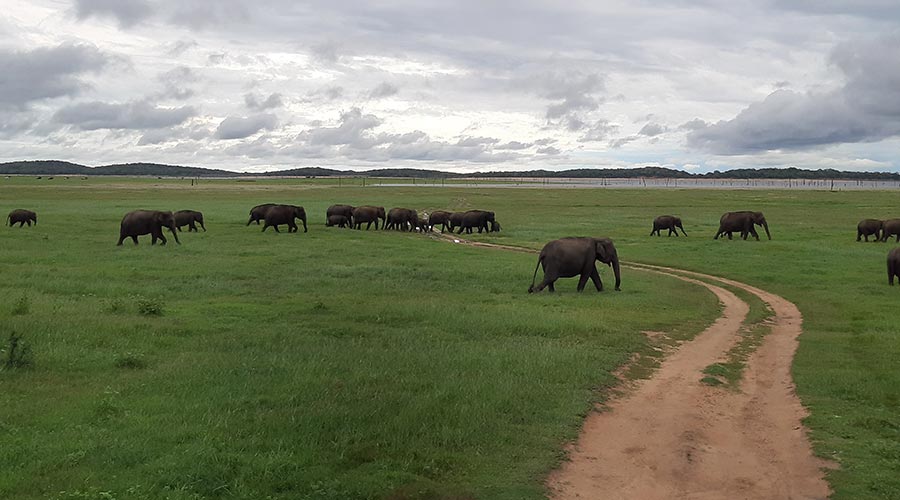 Description
The Sri Lankan elephant (Elephas maximus maximus) is one of three recognized subspecies of the Asian elephant, and native to Sri Lanka. Much like their relatives in Africa, elephants in Sri Lanka form matriarchal herds of more than a dozen individuals. Elephant calves live with their mothers for up to 5 years, after which males disperse and females continue living with the herd.
Sri Lanka is one of the few remaining places where you can see hundreds of wild elephants roam free. It's not certain how many elephants there are in Sri Lanka, but according to the World Animal Protection Organization's research report on the conditions for elephants used in tourism in Asia, there is an estimated five to six thousand elephants in the wild in Sri Lanka (though this number varies between 3,000 to 7,500 depending on sources) and 120 to 200 in captivity. This means that Sri Lanka has the highest density of wild Asian elephants worldwide.
Sri Lanka offers a tremendous amount of wildlife and biodiversity for its size, and the opportunity to observe elephants in their natural habitat is not to be missed! Read on for more information about the state of elephant conservation in Sri Lanka and where to see wild elephants in Sri Lanka.
The religious use of elephants in Sri Lanka has its origins in the early period of Buddhism in Sri Lanka. The oldest record of the use of elephants in Buddhist religious processions and festivals in Sri Lanka dates back to 3rd century BCE, when Buddhism was introduced to the Island. The oldest record of the use of elephants to draw a chariot with the Tooth Relic in a procession is from early 14th century CE, centuries prior to the commencement of the Kandy Esala Perahera in the 18th century. Source.
We encourage you to make informed choices because the best place to see elephants in Sri Lanka is in their natural habitat. The Sri Lankan elephant population is now largely restricted to the dry zone in the north, east and southeast of Sri Lanka, and elephants can be seen all year round, sometimes even outside of the national parks when they cross "elephant corridors".
If you've come here looking for "The magnificent giants on the land of Sri Lanka", we hope that the information above has helped to change your mind and that you look into more responsible alternatives, including going on an elephant safari in Sri Lanka. Observing elephants happy and free in the wild is a magical experience, here are some of the best places to see wild elephants in Sri Lanka!
-Udawalawa National Park
-Minneriya/ Kawdulla National park
-Wilpattu National park
-Yala National park
Starting Point
AT COLOMBO INTERNATIONAL AIRPORT
Ending Point
AT COLOMBO INTERNATIONAL AIRPORT
Price Includes
Air Fares
Nights Hotel Accomodation
Tour Guide
Entrance Fees
Price Not Includes
Guide Service Fee
Driver Service Fee
Any Private Expenses
Room Service Fees
Important
Terms & Conditions
Payment Policy
---
• In order to confirm the booking, we need advance payment of 50% balance can be settle ones arrive to Sri Lanka
• There will be no additional charges for postage, handling, and booking. We do not provide any hidden charges.
• Peak season payment will be subject to hotel availability. As sometimes we need to pay in full for hotels in order to book rooms. (Peak season – January / April / July / August / December)
Travel Tips
1. Sri Lankan temples, long pants are required to enter, and slippers are required to enter the area. Bring a shawl to cover your shoulders and a long skirt that covers your knees (long shorts for men) to visit a temple.
2. Pack a jacket or a pullover if you are planning to go to the Hill Country. The temperature there goes down 10-15 C (50-60 F). It is especially cold at night.
3. It's better to buy sunscreen and bring it with you, because it's ridiculously expensive in Sri Lanka. We recommend getting a mineral sunscreen that is eco-friendly and safe for coral reefs. Ladies bring enough feminine hygiene products for the trip. Tampons are hard to find and expensive.
4. The currency in Sri Lanka is Sri Lankan Rupee. You'll see a sign "Rs" on price tags, which means "rupees". You can exchange money at the airport, the rates are usually decent and it's safe and easy. You can also exchange money in one of the banks in bigger cities where you travel. ATMs are easy to find too. Always have some change with you. Although nowadays you can pay with credit card in hotels, restaurants, and supermarkets, there are still small shops in rural areas where only cash is accepted.
5. Local sim card will be provided. You can use data to call home via Skype or Watsup. Data is also very handy when you are traveling and simply stay connected with the world. Wifi is available at many hotels, hostels, restaurants, and cafes across the country. It's not always reliable and fast, but you'll find it in most touristy areas.
6. The weather in Sri Lanka is not defined by seasons, but by monsoons instead. The southwest of Sri Lanka is hit by monsoon from April to September, while the northeast – from November to March. This means that any time of the year there are areas in the country where it's not raining, and you can enjoy your vacation. You just need to plan your itinerary accordingly. Having said that, we want to mention that rains in Sri Lanka are quite brief. It rains cats and dogs for 15 minutes, then it stops completely, and you can go on with your day. It's not ideal, but it never stopped me from traveling around the island. Just pack a light rain jacket in your luggage and you are good to go! This eco-friendly rain jacket is super cute, by the way.
7. The temperature stays consistent throughout the year at 26-30 C (78-86 F) but might go up even higher in the hottest months around April-May. The temperature goes down once you reach the Hill country. In Nuwara Eliya and Ella it can be as low as 10-15 C (50-60 F). Humidity is very high all over the island. The average is 60%, but in the southwest it can go up to 80-90%.
8. In touristy towns by the beach, in the southwest of the island, you can wear pretty much whatever you like. There are way too many tourists so short skirts and shorts are fine. But if you are traveling to ancient cities or less touristy areas of Sri Lanka, I would recommend for women to cover up a bit more.
9. Get travel insurance. It's better to be prepared. Although there are municipal hospitals in Sri Lanka, this is not where you want to end up in case of emergency. Private hospitals have better facilities, but they are expensive. Travel insurance will help you avoid those expenses.
10. Sri Lankan meals are arranged for use in hotels. Cleaning and sanitation are more secure. However, due to taste, please have psychological preparations for entry and customs. Please use mineral water for drinking water. Raw water should not be used. In Sri Lanka eat Sri Lankan food. Sounds silly, but seriously, this is what they do best.
11. Sri Lankans eat rice and curry by hand, you should try it too. we must admit, it looks gross when you see it for the first time. So, take it easy, watch people do it first, learn a little, then dive in. The reason you should do it at least once is because the taste is truly different when you eat rice and curry with a spoon vs by hand.
12. There's always at least one public holiday a month on the day of full moon – Poya day. On Poya day and other public holidays many shops and restaurants are closed, especially outside of Colombo. It is also prohibited to sell alcohol.
13. Standard voltage in Sri Lanka is 230 V, standard frequency 50Hz. D, M, and G type of power sockets are used throughout the country (the plug either has three round pins or three rectangular blades).
14. For some sightseeing spots, you need to buy tickets for your camera or camera. Please remember to ask for a receipt.
15. Sri Lanka's attractions, if there are arrangements for service personnel, more will ask customers for tipping habits, please prepare some change for spare.
16. Please bring your usual medicines with you in case you need them.
17. Wild animals, plants or related products are strictly forbidden to export. Some licensed export items can be carried as carry-on baggage but must obtain an export document certificate.
18. Do not buy silver products and wild animals, plants, and peacock feathers in large quantities.
19. If you are planning to travel around the island a lot, get a backpack. Even if your plan is to stay in a hotel by the beach and take short daytrips from there, it's comfortable to have a small backpack to take all you need for the day. Mosquito spray will be essential item in your backpack. 20. Sri Lankans smile a lot. They are also some of the most kindhearted and welcoming people in the world. Please respect the local folk customs. When people smile at you, smile back. And, as Ellen says, be kind to one another!